One of the reasons Silicon Valley is such an engine of innovation is the open culture here. Thanks to this openness, I was invited to guest blog on the topic of Driving More Innovation in Your Workforce. I invite you read the whole post, and meanwile, enjoy the Five Main Take-aways:
Five Ways to Drive More Innovation In Your Workforce
When selecting employees to join your organization, or for retention efforts, take their innate innovation talent into account.

Assign people to innovation initiatives, and teams, according to their innovation abilities.

Consciously monitor your mix of innovation talent to ensure you have enough Horizon 2s and Horizon 3s to thrive in the future. They have Swarm scores in the Top 50th percentile.


Focus your L&D dollars on the employees likely to grow the most from that training (Horizon 1s and Horizon 2s).

Deliver the specific training needed, according to each employee's innovation profile.
Now these five methods sound pretty obvious, but hardly anyone does them. They presuppose that you can identify innovation talent, which until now, has not really been possible in any scalable way. Swarm Vision reveals your innovation talent in granular detail.

It is critical that you do identify and leverage the innovation talent hiding in your workforce, because innovation talent drives business growth. To illustrate this point, here are the distributions of innovation talent in two otherwise similar companies, one slow-growing and the other fast-growing: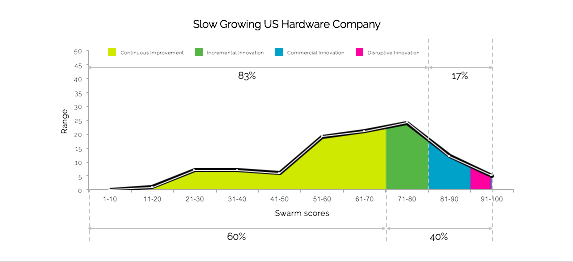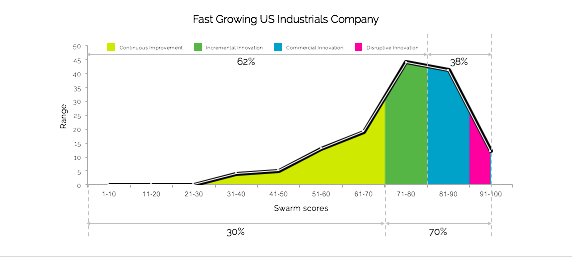 Notice that in the slow-growing company, a mere 17% of the workforce scores in the top half for innovation talent (Swarm scores in blue or magenta). Whereas in the fast-growing company, a whopping 38% scores in this upper range. Both of these companies are about 75 years old, and both ship hard goods.
To become more like the fast-growing company, your first step is to discover the innovation talent already in your workforce. Then follow the 5 steps to harness that talent to drive more growth. To get started, Take the Swarm Innovation Profiler here yourself and share 15 free licenses with your colleagues:
And enjoy the full blog. I'd love to hear what you think.
- Suzan
Suzan Briganti
CEO & Founder
Swarm Vision