Growing up in Silicon Valley, my favorite place to go for milkshakes was the Creamery. The Creamery is one of the few things that hasn't changed here since I was a kid. Ironically, across the street is the Institute for the Future, folding past and future in mind-jangling proximity.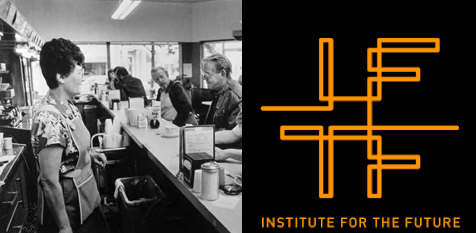 Recently, I had the privilege of strolling for coffee with Bob Johansen, distinguished fellow at Institute for the Future (IFTF). For someone who was there for the unveiling of the Internet, Bob is a humble guy, soft-spoken and dressed in monastic black. Bob's job is to forecast the future about 10 years out — for small outits like the US military, Nestle and Walmart.
Unbeknownst to me, Bob just authored a new book called, "The New Leadership Literacies, Thriving in a Future of Extreme Disruption and Distributed Everything."
Here are Three of the New Leadership Literacies
Looking backward from the future: Future leaders will need to be clear about direction, but flexible about execution. Clarity will be rewarded; certainty will be punished.
Voluntary fear engagement: Leaders will engage with their own fears in low-risk simulated worlds. Safe zones let them immerse in new contexts and figure out how to succeed.
Shape-shifting organizations: Everything that can be distributed, will be. Organizations will be like fishnets, leaders emerging and disolving as needed. Reciprocity will be the new currency.
Reading Bob's book, I was amazed by the intersections with Swarm Vision - the breakthrough innovation talent solution. Since innovation is all about thriving in uncertainty, that makes sense in hindsight (kinda like the future).
I see Swarm as a kind of zoomed-in primer for developing some of Bob's new Leadership Literacies. You can take the Swarm Innovation Profiler yourself here, and share 15 free licenses with your colleagues:
I'd love to hear what you think.
- Suzan
Suzan Briganti
CEO & Founder
Swarm Vision